Rioja Peru
In the Alto Mayo Valley in the Department of San Martín
The town of Rioja is in the province of the same name in the department of San Martin in the north of Peru, situated between the Amazon rain forest and the Andes mountains. It lies 848 metres above sea level and has a semi-humid sub-tropical climate.
Rioja has a variety of hotels for the tourist as well as cheaper accommodation and is a great centre for visiting the natural attractions of the surrounding area which include protected forests, waterfalls, springs, caves, communities of ethnic peoples such as the Aguarunas, folklore, arts and crafts and exotic local dishes and drinks.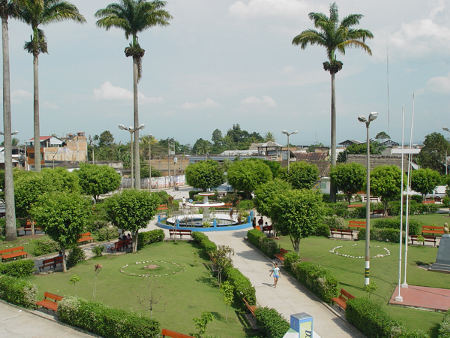 Rioja's central square or plaza de armas
The newly asphalted road from Lima has now been completed and this now extends to Moyobamba making it a twenty minute drive by car. The work on the road to Tarapoto should be finished soon which will make this an hour and a half by car. Planes fly into Tarapoto daily and smaller planes should soon be flying into Rioja again.


Fotos del Corso 2008
Copyright Rioja-Peru.com © 2001 - 2013