Geography of Rioja Peru
In the Alto Mayo in the Department of San Martin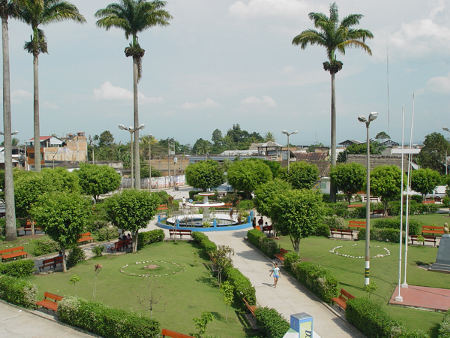 Rioja's central square or plaza de armas
Location: The town of Rioja is situated in the valley of the upper River Mayo (Alto Mayo) in the north of the department of San Martin. Its coordinates are longitude 77°08'30" and latitude 06º03'00" .
Surface area: Province of Rioja: 2535.04 Km2. District: 185.69 Km2.
Altitude: 848 Metres above sea level. The peaks surrounding Rioja exceed 1,000 metres.
Climate: The climate of Rioja is sub-tropical and semi-humid. The average temperature is 22.5°C. with actual temperatures varying between 16.5°C and 28.4ºC.

Communications and Transport
Rioja is connected to the rest of the country by land and air.
By land - via the "Carretera Marginal" or main jungle highway. There are daily bus services as well as minibuses, collective taxis and lorries to the mountains (sierra), coast and the main towns and cities of the department of San Martín.
By air - Rioja has a modern airport where small and medium sized airplanes can land, both for passengers and cargo. At the moment the Aerocondor airline flies twice a week to Lima, the capital of Peru.
By river - Motor boats, canoes and rafts use the rivers Mayo, Tonchima and Negro for small cargos
Reliable public internet facilities are available in the town centre for around US$1.00 an hour
Text Copyright Ludwig Cárdenas
Translation: Richard Dobson
Copyright Rioja-Peru.com © 2001 - 2013